Official Nintendo Magazine 87%
"...those who take the plunge will find a ludricrous amount of excellent content within."
GamesRadar 9/10
"...Overclocked is something unique in the Nintendo 3DS field: a deep adventure lasting dozens of hours."
Gamecritics.com 9/10
"Overclocked is certainly blessed by the 'Gods of Gameplay'."
RPG Fan 90%
"Devil Survivor:
Overclocked is a great
expansion on an awesome
game that offers hours
and hours of quality
strategy-RPG gameplay."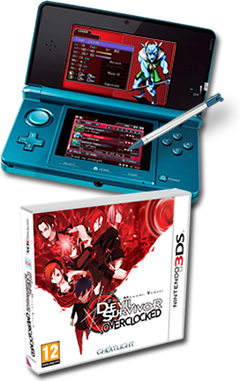 In seven days Tokyo will fall.
The entire city has been locked down. No one enters and no one leaves. Demons have invaded the city, attacking innocent people who have no means of fighting back. Inside the lockdown, fear and chaos reign.
You are inside the lockdown. You will forge contracts with demons who will fight by your side. You will make decisions that will mean life for some and death for others. But what about your own life? Will you survive?
Seven days remain. The clock is ticking.
One of 2009's best RPGs returns you to Tokyo in the midst of a lockdown.
Live to see the brand new 8th Day chapter!
Collect and fuse demons to create more powerful creatures.
Many possible endings await in this hybrid of traditional and strategy RPG.
The Shin Megami Tensei: Devil Survivor Overclocked - Poster Edition contains two exclusive A1 posters featuring the box art on one side and a stunning panoramic view of the Tokyo skyline taken from artwork for the game on the other.
The posters will be sent in a separate cardboard tube, so no unsightly fold marks!
The poster is only available if you order from the Ghostlight Store so click the button below to grab your copy now*.
* While stocks last.